How to Scale Your Business Working From Home with Organic Growth and Semantic Content Strategy?
---
---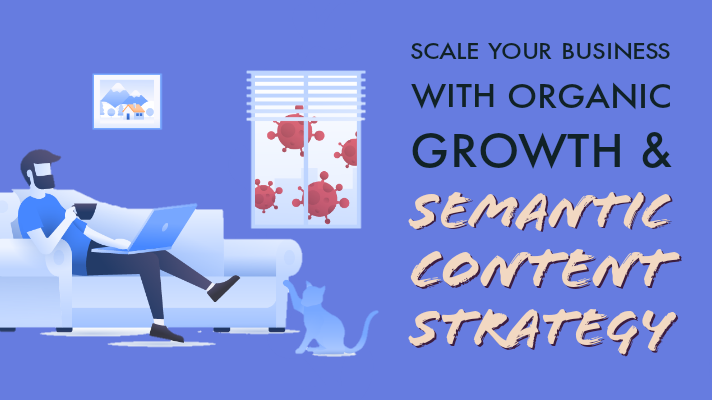 ---
With the world rapidly changing its course due to the on-going crisis of dealing with a pandemic, it is important to function in the consequences a pandemic will bring to our future economy, businesses, and life. If you weren't working from home before the pandemic, you are now. Since working from home has its pros and cons, it is significant to understand the effect it will have on your business. Businesses that did not have an online presence before COVID-19 are facing huge issues in continuing their ventures. Businesses which did have an online presence are still having issues because the sales are lacking behind. Whether you are running a successful business or not, the future prospects will make you look towards hundreds of options before nailing down the strategy for your business projects.
Semantic Content Strategy
Before we delve deeper, it is important to understand what it is and how it works. To begin with, Semantic Content Strategy is a way to improve the keywords you type into the search box. The search engine provides you with a query after understanding the context behind your question. It runs an analysis of combining your words into a similar context and provides you with the accumulation of the best possible result. For example, if you type "Best Hairdresser in Washington D.C.," the semantic search will provide you with the top quality hairdressers not in the United States but specifically in the city you required. It will also cater to the reviews, ratings, and references which other websites have and provide you with the solutions that will fall into the category of "Best hairdresser in Washington D.C."

To effectively incorporate semantic content strategy in your work, it is crucial to understand the following points:
1. Use Contextual Content:
If you use the content which is easily understandable to your users, the search engine and semantic searches will also be able to understand and categorize them. The readability of your content has to be contextual based. It should be in clear language and state the point that you want to convey. In other words, it should be succinct yet impactful.
2. Companion Words:
Although keywords were the talk of the town a few years ago, they still seem to be important in identifying your content on google ranking sites. Your content and web page can be on Google's ranking page if it has used the right kind of companion words, keywords, synonyms, things related to the subject matter, and written precisely and clearly. Even though synonyms do the same job, companion words tend to take things a step further and introduce new ways of getting traffic to your content. If you are writing an article on "Digital Marketing in 2020", few of the companion words which your write-up is bound to use will be "advertising, web copies, promotions, ads," etc.
3. Call to Action:
The links you are providing in your article helps semantic searches to be more precise. An SEO based article needs to have Call to Action links so as to provide more engagement and reach. Semantic searches play a lot of their strategy towards the links because it accumulates the amount of data that is being driven from the Call to Action link. The more helpful link is to the users, the more traffic it will bring to the company.
4. Use of Native Language:
Content that is written in your targeted audiences' native language will have more business offers. Your targeted audience matters a lot as they make or break the foundation of your business. Your sales and revenue are heavily dependent based on how you choose to communicate with your targeted audience.
Here are more ways you can scale your business while working from home with organic growth:
5. Relatability:
The more relatable the content is for the consumer, the more chances are of it being sold. Studies show that the relatability factor is critical to gain the attention of the customer. Relatability in terms of emotional stability, economic stability, socio-economic stability, and financial stability is the attractive point for any consumer. If you are selling an ad targeting the pain point of the consumer, chances are he will find it more appealing to his sense because of the connection your brand has formed with his relatability.
One of the main pain points of any brand is to create something which brings in the traffic and sales in their company, AI-Powered Semantic Content Strategy ensures that your company becomes the Leading Authority Page #1 of Google. It drives its data from different websites and through using CrawlQ, it increases the visibility of the company in just a few days.
6. Engagement:

Your brand has to appear human. A brand may not be a real person or a living thing, but it has to cater to the idea of a person who cares about its consumers. The more you engage with your users, the more they will be inclined towards seeing your content. Engagement and reach on social media drives more consumers to your web pages. Your engagement on social media is important to increase your sales because the amount of competition there is on the internet will make your brand be in the background. Every little bit counts to give fierce competition to people in the market. Answering queries of users on social media, putting up pictures in order to attract the attention of your users and checking up on your customers is all part of the engagement game.
7. Organized and Structuralized Networking:
Working from home can be tough especially when there is no way for you to escape your bed and the homey feeling of your home, which is why there should be a practical way of organizing things in your schedule. When it comes to handling the structure and organization of business while working from home, it's important to realize that the first and foremost thing your business needs is to not lack behind in having a strong, set and determined schedule to be followed.
Another thing that also concerns your business in being structuralized is having a keen understanding of how your consumers' routine has shifted from before. In the post-pandemic world, people might not be checking their social media at 10 in the morning. However, they definitely will be active on their social media till late hours in the morning. All these shifts in timings affect your business too. A Facebook post which was uploaded before pandemic in morning hours might have garnered a lot of attention because people used to be up and running. Although if you upload the same post now, it will get extremely less reach and engagement because post-pandemic people might have irregular sleeping patterns.
It is important to analyze the psyche of your consumers before marketing any business post of your brand.
8. Carry forward the trends:
Since it is going to be hard to go out searching for content in the real world, a lot of brands are moving towards the bandwagon of sharing Instagram stories of quizzes, TikTok videos, collaborating with the influencers, and making trends for their followers to follow. A simple story by a fashion brand that tells people to tag their friends and share their favorite memories while wearing a certain color is an easy and profitable way of marketing. It allows the people to remember the brand from their past and creates a connection in their minds. The biggest thing it does is make the brand relevant and relatable to the masses. It is also helpful for the publicity of the brand.
5. Creativity matters:

Working from home might come off as a nightmare for many since it lacks in providing one with creative ideas to have for their business, but it also comes with the free time on your hand to think and create freely. Earlier before the pandemic, all of us had been so immersed in moving from place A to B, doing chores, working late shifts, and surviving from one day to the next that it did not allow us to have even one full hour to ourselves. Due to working from home, a lot of artists, businessmen, and businesswomen feel that they have more free time to think, play, create, sing and come up with ideas that might have been lost in the daily struggle of life.
In the same way, working from home can allow you to think freely and without any barriers. You can create a lovely piece of art without going crazy over the daily struggles of life. Your next business idea can emerge from that small space of creativity.
In conclusion, your business will grow organically through cultivating a balance of having tips and tricks for semantic content strategy and working from home. To understand that your content is optimized for today's internet and search engines, you must have a keen idea of how to drive traffic on your web pages through building context, using the right amount of keywords with companion words, having relevant links to authentic sources for searches and using the right language for your targeted audience. The future of semantic content is also heavily dependent on the use of virtual assistants, as said by Google's CEO, Sundar Pichai, where around 20% of search queries on Google's app is through voice searches using Artificial Intelligence.
---