How Link building and semantic SEO are vital to your business in 2020 ?
---
---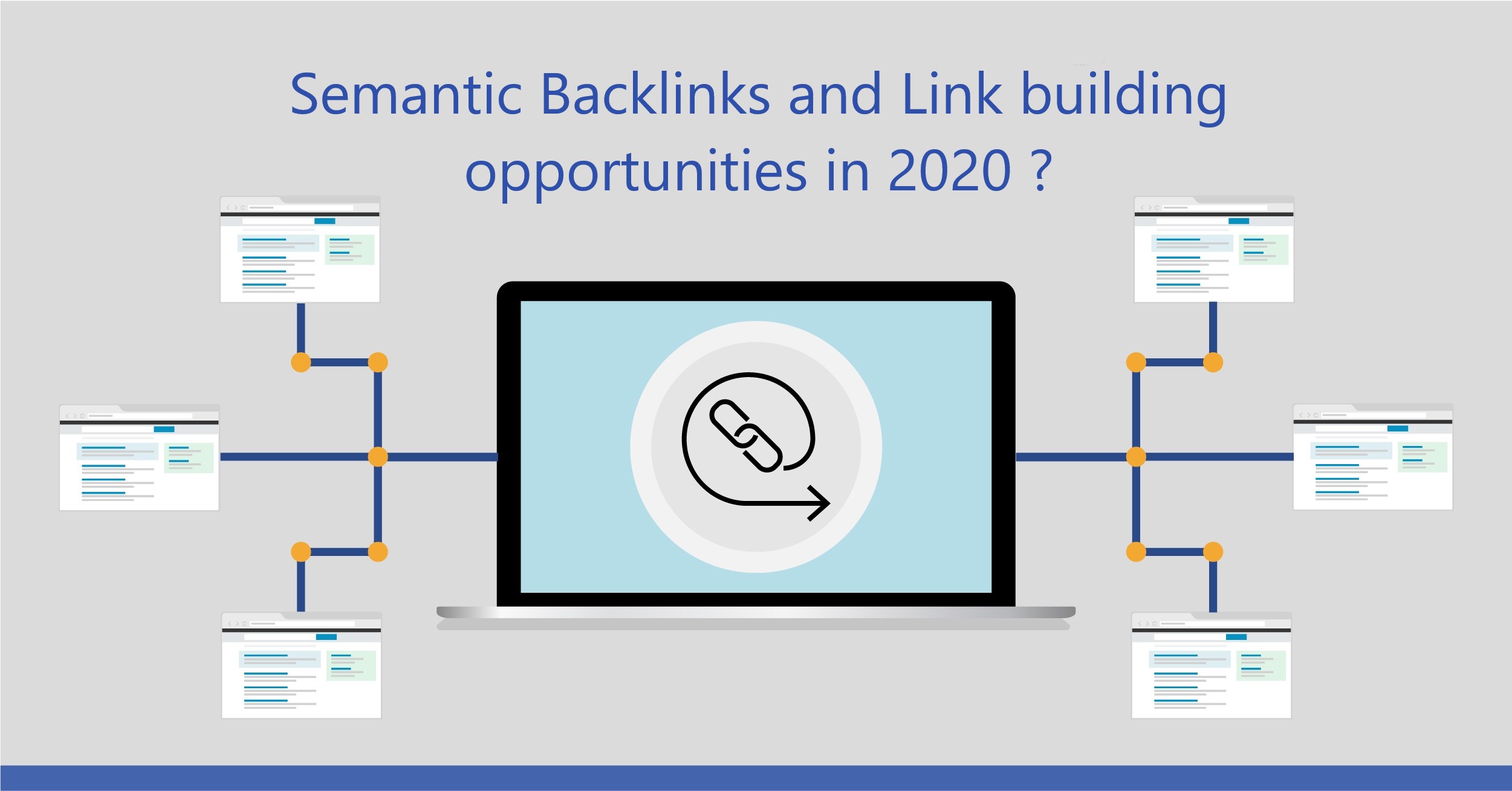 ---
Are you looking for high traffic on your website? Do you want your website to be on top of Google searches? You just need to learn the connection between semantic SEO and link building to give a boost to your website.
Semantic SEO deals with the optimization of content based on user intent and context of a search query. It's a smart way to optimize your content with regard to the user's requirements. Link building, on the other hand, is the process of linking other websites to your own website. Here's how you can use both these techniques for your business but first let's dive into the basics of semantic SEO and Link Building:
What is semantic SEO?
The new marketing wave of digital media is Semantic SEO, it's the system that reads and analyzes the searched content and intent of the user. Semantic SEO evaluates that whether your business is operating significantly leaving a mark in the digital industry. In order to attain relevant results according to the user's query, the search engines require a complete context.
Through this technique, you can create a clustered content that is classified semantically according to topics instead of keywords. It performs more like a Wikipedia, where the content is clearly classified and organized with each other that machines can easily understand.
Semantic SEO actually translates to:
If the keywords don't last long, the traffic will surely sustain for long. Google algorithms also show what users are looking for to match their intent.
The transition of semantic SEO
The SEO techniques are heading over to a new dimension. The new algorithms of Google account for 200+ diverse characteristics for ranking the website on the first page of SERP (search engine results pages). The new SEO has been categorized into two forms:
Technical SEO
This type caters to all the onsite problems and prevents website indexing on the search engines.
Non-technical SEO
This type deals with all social media marketing strategies, content creation, the strategy of brand or company and business communication. Fortunately, CrawlQTM Analytics powered by Quantamix consists of many innovative features and a combination of both types of SEOs in one place.
On the analysis of the design-focused website freeyork.org, after three months of using structured data in their Wordpress website we saw the following metrics improvements:
+12.13% new users
+18.47% increase in organic traffic
+2.4 times increase in page views
+13.75% of sessions duration
The process of obtaining hyperlinks from other websites to your website is called Link Building. Hyperlink helps the user to navigate among different internet pages. Search engines crawl into the web through links, those links will crawl between the individual pages on your website and crawl between all of the websites.
Link building and SEO
Search engines use links for two fundamental ways:
For discovering new web pages
To help businesses in identifying how much better a page should rank in their results.
In the 1990s, Links acted as ranking factors that allow Google to get dominant on the search engine market. Earlier, Larry invented Page Rank, through which Google measured the page quality by counting the number of links going towards them. This technique became a strong signal for the overall ranking algorithm.
The inbound links are also called Backlinks or external links, they are considered as currency of the internet because they act as a real-life reputation. Importance was given to the concept E A T (expert, authoritative and trustworthy) by Google Search Quality Rate Guidelines. Those websites, that don't show these three characteristics, are considered as lower quality for search engines than those who do.
While practicing semantic SEO, considering a website that shows these characteristics should be your guiding light.
EAT and link building
When the website is more popular and important the site is, the more weight of the links that site carries. For example, Wikipedia has thousands of differentiated sites linking with it. This means that Wikipedia provides numerous expertises, has cultivated its authority and a reputable and trustworthy in another site.
To earn trust and authority for your business with the search engines, you have to get links from websites that have the quality of EAT.
Why link building is important for Semantic SEO
Link building is important for businesses as it is a major factor in Google's web page ranking. Webmasters can enhance the ranking of their websites by improving the number of high-quality web sites that links to your business page.
Let's suppose you own a site promoting wind turbine equipment that you sell. And you are competing with manufacturers of equipment for wind turbines. The one factor Google will consider for ranking is identifying how to rank respective pages is link popularity.
The basic importance of link building is that it should have these key factors:
Trust ad authority of the pages you are linking with
The content optimization and SEO of respective pages
The anchor text of links that are incoming
To understand the concept in detail you should keep Google's saying, your content will more likely to be ranked higher for keywords you are targeting when you can link external websites to your page.
Simple strategies for link building
You can link the external websites with your business site by:
Content creation and promotion; develop understandable, unique, high quality and connected content that users can link with and reference to it. Spread your word.
Mentions and reviews, target the influencers of the industry, to put your products, or site in their attention. Like famous social media influencers.
Friends and partners link, build a family connection, ask your colleagues, friend's family and connected people and get referral link building to your site.
How link building is a must-have for your business
As discussed above, links help the search engines to determine the ranking of the site, so by enhancing the links of your website you can achieve the following benefits:
Building relationships
Sending referral traffic
Brand building
By developing more and more internal and external links to your website through semantic SEO, the businesses can achieve high traffic, strong relationships with other brands and companies which leads to a good reputation. Therefore, your must-do link building with your website to increase the rate of visitors.
CrawlQ Analytics and Link Building
The success of your business is based on your digital assets; these assets vary according to the nature of your business such as content, images, videos. To avail link building you must conduct semantic SEO of your website. For affordable yet effective SEO services by Quantamix can save your day.
Semantic backlinks
Backlinks are the digital assets that help you establish Domain and Topic authority over the search results, and CrawlQ Business Analytics allows you to track and monitor the active backlinks and also analyze the semantic similarity between target content and the context of the backlink and present an overview of your backlinks, and help you analyze the real contextual value of your digital assets.
Backlinks Opportunites
The CrawlQ Business Analytics backlinking tool also provides information about backlinking opportunities for the sites which do not include your domain on their page. Still, at the same time, they are listing in search results of your domain, and this is a better way to identify backing opportunity if your context is similar and also be useful to corner out the unwanted competition in search results of your domain.
CrawlQTM Analytics provides cloud-based artificial intelligence solutions along with semantic AI (artificial intelligence) SEO toolkit for the professionals. You can uplift your results through AI-augmented SEO tools and prioritize and also empowers the critical ranking signals that consider your ranking and improves your website ranking.
Final verdict
It's time to save your business and save your money, instead of getting fooled by ineffective agencies. CrawlQ analytics provides affordable and high-quality services that can brighten up your website. While semantic SEO helps in enhancing the traffic towards your website through search engines with the help of metadata and semantic content and provides the user with the content according to their intent, on contrary, link building helps in connecting the internal pages of websites having the same domain. The search engines identify the links with the help of algorithms and evaluate the sites and pages related to the link. Thus, these techniques collectively give your business a healthy boost.
Therefore, it's time to invest in the growth of your business and register for a 14 day free trial for CrawlQTM Analytics powered by Quantamix Solutions.
---