AI tools and techniques in Semantic SEO
---
---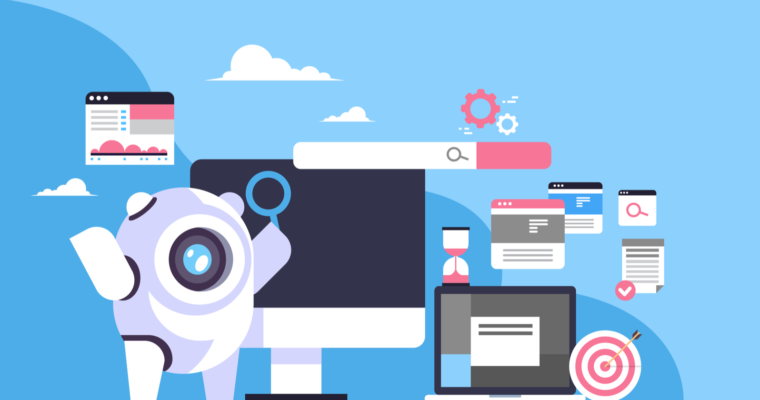 ---
Semantic SEO – A new era of SEO
Semantic SEO are the techniques in search engine optimization which enables the search query to provide meaningful results to the user by understanding the intent behind that query. Semantic search results provide contextualized content to the user by not restricting it to the exact keywords of the search query but rather build a relational connection to it. The main idea is to add language tags and meta-data that are interrelated to the main topic into the content so the search engine would semantically refer to the given website for a specific query even if it does not match the exact keyword. This technique uses artificial intelligence (AI) tools that build a vocabulary cloud around a particular topic that relies on the context and intent behind a search query to augment the central theme and user experience. All the keywords should be highly optimized and interrelated as there are many high CPC keywords (Cost per click) like the keyword software with a CPC of $35.29, which should be used appropriately.
Semantic SEO definition
Semantic SEO is the practice of creating content that is search engine optimized around a particular topic rather than the exact keywords.
Is Semantic SEO the New SEO?
The digital world transforms very rapidly as compared to traditional media, and new trends and techniques are adopted to create the most desirable user experience. In 2011, Google and other major search engines started using Natural language processing techniques (NLP) in semantic SEO, and artificial intelligence (AI) tools and techniques to identify the search intent of users. The user's intent is enriched by their past searches to give a context to the semantic UI search. The innovation and application of AI tools and techniques are leading to the adoption of Semantic SEO in the digital industry. The semantic SEO tools also identify any black hat keyword stuffing that generates traffic to the website by unethical methods. Another major trend is the use of LSI (Latent Semantic Indexing) keywords, which is a list of keywords that are semantically associated with each other and help in optimizing the content through semantic SEO. There are many LSI keywords finder and LSI keyword generators that suggest keywords to be added to the content to make it organically crawl up to the top website SERP rankings.
Semantic SEO best practices
The first step in Semantic SEO is to identify primary keywords and then secondary keywords that are synonymous and are connected or interrelated with primary keywords. Secondly, the identification of new keywords is essential as the digital content is evolving at a rapid pace, so a database of all related keywords has to be maintained and continue to add in the database every day. These keywords are classified as semantic keywords. The use of important SEO semantic tags, including Header and footer semantic tags and semantic keyword generators, is a beneficial way of content creation, which ultimately impacts the SERP rating of a website. The existing content should be augmented with new content that includes both the primary and secondary keywords from a different perspective to engage more users and use organic semantic SEO for the benefit of the website.
CrawlQ Business Analytics
5 Top Secrets to Organic Conversions Revealed
#1 Semantic SEO: Create content which answers your user's search intent. Analyse semantic site structure, content readability, sentiments and internal linking.
#2 Build Topic Authority: Building authority on specific topic boost your organic visibility and relevancy of your content for search engine and users.
#3 Contextual Analytics: Compare how you perform with respect to your competitors
#4 Content Idea Generator: Discover new, trending, authority content which matches your users search intent and build topic authority for your online assets using NLP algorithms
#5 Content Optimizer: Identity what is the user's search intent. Match your domain level and page level key phrases with the search intent of the user and optimise to match it with your top competitors
Register here for 14-Day Free Trial absolutely free Start Your Free Trial
How Semantic Search will impact your business in 2020?
Horrific and shocking to see how old school SEO techniques like backlinks, keywords and guest posting still relevant in 2020 and costing thousands of dollars per month. Stop using these old tactics. These no longer work with Semantic Search and Conversational AI.
Growth Hacking using AI in Semantic SEO is a new trend. Stop wasting your money on a guest post, keywords and backlinks. Write relevant and useful contents which answer the user's search intent. Google search is now answering machine and using conversational AI. You only need two tools #1 Google Analytics and #2 CrawlQ Business Analytics
Other Competitor AI Tools in Semantic SEO
There are many AI tools for semantic SEO that uses Latent Semantic Analysis for SEO, and some of them use Latent semantic analysis in python as well. We have gathered a list of the top AI tools that are creating a buzz in the market for AI and semantic SEO.
1. MarketBrew
MarketBrew equips its users through a software training program on its website. The software delivers quick results to end-user by using a unique Search Engine modelling system to produce meaningful results in one and a half hours at max. The AI system codes a base search model that is best suited for the user's desired search engine and learns the search engine's exact algorithm very quickly. The software studies meta-description, and HTML content of all searches on the website and facilitates the user to analyze search results automatically rather than manual methods. MarketBrew provides many tested ways of improving website ranking, which is checked within hours of application. The platform is visually appealing and has a great user interface.
2. BRIGHTEDGE
Bright Edge is a professional platform for content creators and marketers to optimize the content for their website by providing multiple modules. Their most prominent feature is the Hyperlocal add-in that classifies and provides a visual map of keywords for a city, region, or country. The platform offers precise recommendations on each page of the website for the relevant content creation. The software presents the SEO changes with a visual presentation and how the brand will look like after these changes are implemented. The story builder features take data from the website and create aesthetically pleasing visual data in the form of charts, tables, and bars to make the data easy to understand and gain insights.
3. Wordlift
WordLift provides multiple Wordpress facets for business, personal blogging, and editorial websites and uses Artificial intelligence (AI) for its execution. Wordpress highly ranks this plugin as it analyzes the website content into many categories to create new entities and internal links to be accepted for the user's website. The platform also provides open license images best suited for the site. The software prepares knowledge graphs to create event timelines, location geo-maps, and semantic maps to interlink topics with each other.
4. Pave AI
Pave AI uses AI technology to facilitate users in making marketing decisions and strategies by linking with Google Analytics and Google Adwords for meaningful insights. The AI software also connects with other social media platforms, i.e. Facebook and Twitter, and integrate their marketing data to improve the user's content. It provides personalized analysis reports with recommendations that are offered by integrating user data with more than 16 million combinations of marketing data. This helps the users in crafting relevant marketing strategies for their Website.
5. Dialogflow
Dialogflow uses natural language processing and is supported by Google to provide voice search for many platforms, i.e. Cortana, Alexa, Facebook messenger, and Google Assistant. The AI software uses entity recognition to analyze voice notes and phrases to complete the user's request. The software creates several examples of the wording and phrasing of a question and how a user can ask them. The user defines the primary entity and of the spoken statement, and the information is then relayed back to the user with many suggestions. The AI tool also guides the user on how to use Siri and Alexa for desired results.
6. Acrolinx
Acrolinx is the best software for advertising and content marketing. It is compatible with more than 30 tools, i.e. Google Docs or Microsoft Word, to provide user convenience for content promotion. The software features a scorecard technique for rating content and user suggestions. Their AI system is compatible with WordPress, Adobe Marketing Cloud, salesfore.com, and Drupal and has content recommendations for all of these forums.
7. Albert
Albert is an AI software specializing in digital marketing campaigns that are optimized to reach business goals. The software presents a self-learning digital marketing model that caters to overall digital campaigns. Albert provides media buying, analytics and insights, autonomous targeting, and cross channel execution. The software helps the users to optimize all their digital marketing campaigns and their resource allocation across different channels. The software also suggests the most suitable time and place to the users in engaging their customers and budget shifts to continually grow their campaigns.
8. OneSpot
OneSpot is a unique AI software that emphasizes consumer journey through content sequencing techniques. It produces content that is user-personalized after analyzing their website history. This AI tool generates a "content interest profile" of the people who visit the user's website. This profiling helps to strengthen the bond between the consumer and the site and also target new consumers through multiple mediums on the site.
9. Can I Rank?
Can I Rank compiles information from different SEO website and then presents valuable suggestions to improve a website. The AI software is linked with more than 200,000 websites to extract data and provide content suggestions to upgrade a user's site in terms of Search engine optimization. The software uses a machine learning system backed by huge data to improve the overall ranking of the website.
10. Alli AI
Alli AI uses artificial intelligence to provide SEO features that are optimized for the content of a website. The software helps to increase user's website traffic, scale business outreach, and offer high-quality backlinks. It is a well-rounded software that uses machine learning to tailor-fit SEO strategies. The users can plan their SEO strategies, get codes, find backlinks, and optimize content to gain maximum traffic to their website. The software has a featured human interactive tool that facilitates the users the same way as if they are dealing with a human.
Quantamix Solutions uses the smartest semantic software augmented with AI tools and techniques in reverse engineering, SEO ranking factors with SEO machine learning models, and SEO text analytics on cloud-based server-less frameworks to bring you the most effective Semantic SEO solutions. The Company uses native python application development frameworks like Flask and Django as an alternative to PHP to augment the best user experience.
---