How AI is Demystifying Traditional SEO Ranking Factors in 2021?
---
---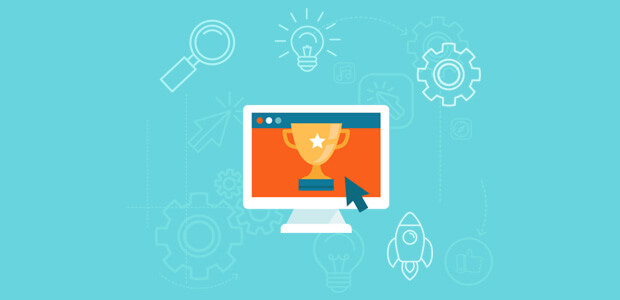 ---
AI is demystifying traditional claims and opinions on 200 Google SEO ranking factors in 2021. Modern-day SEO uses AI tools and techniques from automated content creation, crawling, indexing, semantic topic modeling using word embeddings to enhancing the user experience by page-layout algorithms.
The foundation of SEO in sophisticated machine learning algorithms for SEO ranking factors is not unknown. Over the last ten years, search engine algorithms have evolved dramatically with the advent of new-age AI tools and techniques in SEO.
Myths, opinions, and so-called SEO expert insights have no place in 2021. There is sufficient big data to reverse engineer SEO ranking factors in 2021. AI-powered SEO predictions in 2021 and beyond are building on serverless computing architecture, enabled by big data and cloud technologies.
SEO ranking factor predictions are purely an AI power play. Uses of AI ranges from discovering a competitive content edge to optimizing your site for Local SEO in digital marketing.
If you base your SEO strategy on traditional WordPress web development and WordPress SEO plugins, take a deep breath! You are entirely missing the "dot on the horizon."
Top SEO ranking factors to take care of in 2021?
To stay on the edge of the top ranks, you must carefully pay attention to many SEO ranking factors. We pick the most important ones and demystify some myths and opinions in the content of AI tools and techniques in SEO.
Domain age and domain registration length
With the increasing use of AI tools and techniques in SEO, domain-related ranking factors do not matter. Google is treating all domains equally regardless of newly registered or existing for years. Domain related ranking factors like domain age and registration length are not relevant anymore. Moreover, the Exact Match Domains (EMD) with Keywords are not treated differently by Google.
For example, if you consider buyingonline.com as a ranking factor, Amazon would not be so highly ranked in Google SERP. Content is king! Content Quality and the value you provide to the user is the most important critical factor.
Pro tip: Do not target Exact Match Domains (EMD) and old Domain takeover. This is not considered as a ranking factor.
Keywords in URLs
Matching your keywords in the URLs can act as a relevancy ranking signal and self-anchors. Containing Keywords in URL can positively impact your CTR. Importantly, this engages the user to anticipate the right answer to their search intent.
Pro tip: Use keywords in your URL structure. The user will love it!
Country-code in your domain
Country-code in your domain name is a region-specific ranking signal for a targeted audience in a targeted geography. At the same time, this country code gives the opposite message that your domain is less relevant to global ranking signals.
Pro tip: Carefully evaluate your business strategy before registering or migrating to a domain with a country code. Take strategic business advice.
Target keywords in H1 Tags
Target keywords in the H1 title tags are essential relevancy signals but not critical issues if you miss it. All metadata, including H1 title tags and meta descriptions, are necessary as ranking signals.
Recently, Martin Splitt, Google's Webmaster Trends Analyst, explained the use case of metadata for keywords in H1 tags.

Pro tip: Use keywords in H1 tag reasonably in the context of content relevancy, originality, and structure of the page.
Meta descriptions for titles, images, videos
For on-page SEO, the meta descriptions are the most critical SEO ranking signals. For images and video, meta descriptions help search engine bots to crawl structured data and feed into sophisticated machine learning algorithms.
Pro tip: Implement semantic annotation of your content. Semantic annotation or semantic tagging is a new technique in SEO. Semantic SEO involves additional structured data as additional information for your content. Machine-readable information is added to different concepts (e.g., people, things, places, organization, etc.).
Duplicate title and meta descriptions
Write unique and specific titles to the content you are serving. Duplicate title and meta descriptions are "SEO blunder," and you must avoid this at all costs. Google advises on creating original and unique content specific to individual and accurate page titles.
Pro tip: As a devoted SEO, avoid duplication of content, keywords, titles, meta tags across your website consistently and meticulously. No short-cuts here!
Search snippets and use of keywords in meta descriptions
A carefully crafted meta description helps search engine bots to relate search intent to search results. Good meta descriptions can proxy as an advertisement if your content appears in search snippets in SERP.
All metadata help to get the user's attention and engagement, ultimately boosting your CTR. Creating the descriptions that are most relevant to your page's content may help you catch users' attention and improve your CTR. In the end, your time.
Pro tip: Invest time and energy in writing unique and relevant meta descriptions. This will reap great benefits, and you will see increased organic traffic.
Alt text, titles, and captions in images
To place images in the relevant context and rank in Search Engine, use image alt text, titles, and image captions. Image metadata helps Google Images to match material and useful image contents to the user's search intent. Optimizing all metadata relating to images gives the significant ranking signal and brings quality traffic and conversion to your site.
Pro tip: Google Image Search is the next big thing in AI in SEO. Optimize metadata for images to stay ahead of the SEO curve.
The relevance of content length

The most important takeaway is to create content that reasonably answers your audience's question. The length of the page's content itself is not a ranking signal. Lengthy text can provide more depth and context to the topic but not necessarily answer the search intent. Therefore, create content which is concise, simple, clear, and add the most value to the user's search. Create long length and dense content if you are targeting high-search volume keywords. The content length as a ranking factor has more influence indicating a need to create more in-depth quality content.
Pro tip: Create valuable, well-written, and relevant in-depth quality content. This becomes more important when you are targeting high-search volume keywords.
Content coverage and comprehensiveness
Accurate, clear, and comprehensive content is key to content optimization. Content is useful and compelling when the user engages and shares your content with others. A social signal can indicate good content that is accurate, helpful, and in-depth.
Pro tip: Write content for creating value and provide solutions to the user's needs. Use social engineering to generate strong social signals.
Weight of the content freshness
Websites focusing on news, trends, events, social, and political trends must pay attention to recent and fresh content. At the time passes, the old report provides less value to the user.
The freshness of content is an important ranking signal for information sharing domains after Google's Caffeine update. Quality and value of the content matter than the age of the page. Quality also includes spelling and grammar checks to create professional, authoritative content.
Pro tip: Keep your content up to date and fresh!
The content readability
Content readability is one of the top SEO ranking factors. Search Engine Algorithms uses readability measures such as the Flesch-Kincaid readability score. Other famous metrics are Gunning-Fog, Coleman-Liau, SMOG index, etc.
The Flesch-Kincaid readability score is based on the following formula:
Flesch-Kincaid takes the number of syllables in a word and amount of words in a sentence as a measurement for readability.
Pro tip: Use short words and short sentences in your content for a good readability score.
The relevance of Internal linking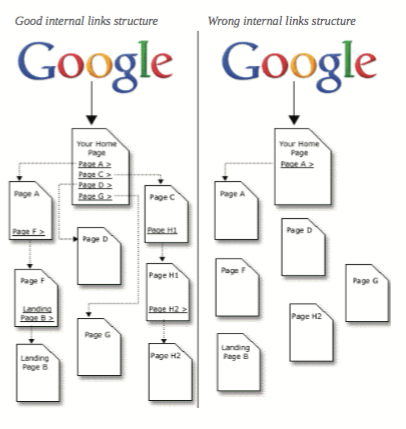 Crawling and indexing become more comfortable with active internal linking. It also allows search engines to discover the most relevant pages concerning other pages. Internal links carry the link juice from other pages and pass on this link juice to other pages. Anchor text for internal links gives a strong relevance signal to search engines.
Pro tip: Always link your most valuable content and ensure no broken links. Use anchor texts based on targeted keywords.
User-friendly layout and distractive pop-ups
Page Layout algorithm improves visibility and user experience, and it penalizes the sites that focus heavily on pop-ups and advertisements. Displaying too many advertisements lowers the user experience. The user-friendly layout is one of the most critical factors for ranking.
Pro tip: Avoid too many advertisements, affiliate banners, redirect links, and link canonicals.
Importance of sitemap and architecture and URL click depth
A poor sitemap can significantly prevent search engine bots from crawling your pages. This limitation blocks the indexability of potentially highly relevant and valuable pages of your site.
Google crawlers should always be able to crawl from one URL to another URL on your website just by following all available links on the page to limit the crawl budget.
For blogging and e-commerce sites, the most important product pages and product category pages should not be more than three clicks away from the home page. As minimum as possible, URL click depth matters more than the URL structure itself. Hard to navigate and find the content in a short time is a terrible user experience.
Pro tip: As a rule of thumb, most important contents should be reachable in 3 clicks from the Home page.
Schema.org and structured data markup
Using structured data might help to understand the target niche of your website. However, it is not a critical factor in itself. Schema.org markup can help identify better and tag information and result in the featured snippets in SERP.
Pro tip: Combine knowledge graph with semantic tagging to provide high-quality content at low costs. Machine learning algorithms use structured data markup to perform classification, internal and external linking, drawing inferencing, filtering, and performing scalable searches.
HTTPS and SSL certificates
The most critical factor for the security of your user and your website is a valid HTTPS status and SSL certificate. Empirical evidence suggests an SEO boost for a site with a valid SSL-certificate. For a website in a competitive niche, a valid HTTPS and SSL can be a tiebreaker.
Pro tip: Create an HTTPS and SSL certificate enabled websites for high ranking in top-10 SERP positions for long-tail keywords.
Mobile page loading speed, user experience, and AMP pages
From 2018, for mobile searches, page loading speed is the most critical ranking factor. The standard benchmark is 3 seconds to load on mobile devices.
The actionable steps are to host your website on cloud, use CDN, compress images, videos, and reduce the number of redirects. Google encourages mobile usability as more and more people use mobile. To improve mobile user experience, pay attention to responsive pages, mobile page layout, and placements of touch buttons. Aim for highly optimized site functionality for mobile devices.
Accelerated Mobile Pages (AMPs) are lighter than standard HTML pages. However, AMPs itself are not critical for ranking. Google can use AMP status to "assess a site quality, provided that canonical version of your site.
Pro tip: Use CDN, image compression tools, regularly check SEO code coverage ratio, remove unused fonts, CSS, and dynamic web page renderings.
Bounce rate, click-through rate (CTR), pogo-sticking, and direct traffic
There is no evidence suggesting that bounce rate, CTR, and pogo-sticking are the critical ranking factors for SEO. Google explicitly mentioned that CTR had not been used as a ranking factor. Regardless, you must track these metrics to engage your audience with quality content. Active monitoring of these metrics can lead to more organic conversions and increased sales.
Pro tip: 56% bounce rate is considered, on average, very good, below 40% incredible, and above 75% needs much work.
Direct traffic to your website and user behavior
As per the Semrush research in 2017, direct website traffic is the most influential ranking factor for the active signal. When visitors directly access your website, it is a robust signal that your domain has high authority and brand value. User behavior such as time spent on site and page view per session are also significant ranking factors.
Pro tip: Spread brand value by presenting and speaking at conferences and attend PR events. This branding can attract highly convertible direct traffic.
User ratings, positive or negative reviews
It is certain that Google already includes user ratings, positive reviews, or negative reviews in their NLP based sentiment classification model. User inputs such as ratings and reviews are seen as a strong ranking signal for Local SEO and Local Search ranking.
Pro tip: Focus on getting high-quality testimonials, user reviews, and ratings. This will strengthen your ranking signal for Local SEO.
Quality and quantity of backlinks and anchor text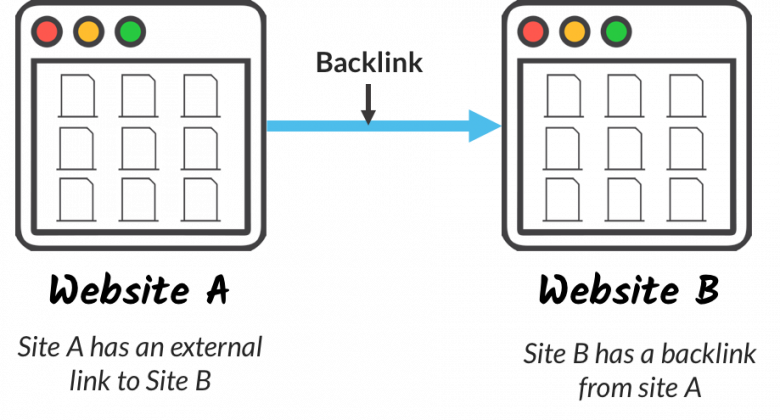 There is strong evidence of correlation in ranking and backlinks. According to Larry Page's presentation of Google search, not all backlinks get equal weights. Instead, what matters is the authority of the domains where your backlinks are originating from. Higher is the number of keywords volume for the top SERP positions, and the higher is the impact of the number of referring backlinks. For lower keywords volume (1 to 100 keywords), less is the effect of referring backlinks on top SERP position. The quality of these backlinks matters more than the numbers.
A strong backlink portfolio is the most influential ranking factor in high-search volume keywords. Acquiring the first position is exceptionally challenging for high-search volume keywords. On the other side, the competition is low in low-search volume keywords.
Value of the outbound links from your website
Outbound links are not necessarily a ranking signal as per John Muller. However, it can bring significant value to your site and can be relevant for Google in SERP. It helps the user and search engines understand how your content is connected to its search intent.
Pro tip: Use outbound links to help the user to get in-depth knowledge of the concept. Avoid disambiguation and distraction in the flow of your content.
301 and 302 redirects and nofollow links
30x redirects don't lose PageRank anymore. 30x redirects are used to pick a canonical signal, and link equity remains unaffected. Thus google makes no difference between a direct link and redirects 30x links. However, using too often 30x redirects lowers the site performance and also increase the crawl time for indexing.
Avoid too many 30x redirects. Nofollow links are not strictly considered as a strong message to not include in the search engine crawl. Google takes these instructions as a hint. Nofollow links seem to have no impact on ranking.
Pro tip: Do not use many 30x redirect links to avoid bad user experience and an increasing crawl budget.
Are you struggling with automating your content creation process?
Quantamix Solutions develops state-of-the-art AI tools and techniques in Content Automation and SEO ranking factors with machine learning models and text analytics.
Our CrawlQ AI Content Automation Tool is based on industry best practices and can fully automate your content creation workflows from Startup to Enterprise Level. If you are Founder, Marketer, or Content Writer, you must not miss out on the opportunity to unlock the unique potential of CrawlQ for your business growth.
---